Blog Author: Wendy L Harshbarger
Director of Marketing and Client Relations
Staying active is essential for our physical and mental well-being. It is also proven to help reduce the risk of dementia, diabetes, stroke and heart disease. Check out these four articles we have shared in our "Move-It Monday" social media series to help you incorporate physical activity into your routine.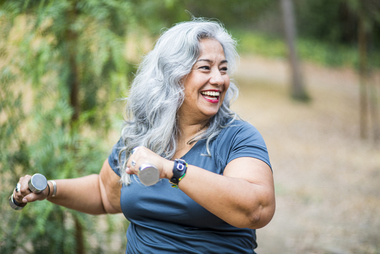 The Joy Workout
The New York Times published an article and video by Kelly McGonigal, PhD, a health psychologist, lecturer at Stanford University, and author of The Joy of Movement: How Exercise Helps Us Find Happiness, Hope, Connection, and Courage.
In the article, Dr. McGonigal wrote, "It's no secret that exercise, even in small doses, can improve your mood. Researchers even have a name for it: the feel-better effect. And while any physical activity — a walk, a swim, a bit of yoga — can give you an emotional boost, we wanted to create a short workout video specifically designed to make people happy. What would a "joy workout" look like?"
You can view the 8 1/2-minute Joy Workout video by clicking here. Give it a try and let us know what you think.
Beyond Yoga: Elevating Mind-Body Exercise to Battle Cognitive Decline
Next Avenue published an article by long-time fitness professional and freelance writer Rashelle Brown on the value of combining physical activity with cognitive training to yield better results than doing either alone.
"Not so long ago, it was assumed that cognitive decline was just a natural part of aging. In the past decade, though, scientific and medical researchers have been studying ways to slow down that process, and possibly even prevent the serious decline into dementia through therapeutic and lifestyle interventions."
You can read this article by clicking here.
12 Major Benefits of Walking, According to Experts
In this article, Prevention Magazine explains that getting in your daily steps can do so much more than help you maintain weight loss. This article explores twelve major benefits of walking that can affect your physical and mental wellness. Click here to read more.
4 Brain-Changing Benefits of Exercise 
In this article, Wendy Suzuki, PhD, a neuroscientist and professor of Neural Science and Psychology in the Center for Neural Science at New York University, shares four brain-changing benefits of exercise and how much exercise she does every week.
Dr. Suzuki starts the article by writing, "When we think about the benefits of exercise, we usually think of better sleep, more energy, maintaining a healthy weight, stronger muscles or a healthier heart. These are all true. But we rarely consider the immediate effects that physical activity can have on the most important organ in our bodies: the brain."
You can read this article by clicking here.
Move-It Monday Posts
If you found the above articles and topics interesting, we invite you to follow us on social media. In addition to our "Move-It Monday" series, we post articles on estate planning, aging, health, retirement, finances and law office news. You can find us on Facebook, Twitter, LinkedIn, Instagram and YouTube.
Latest posts by Litherland, Kennedy & Associates, APC, Attorneys at Law
(see all)